2015 Plein Air  Event and Auctions
Saturday, October 10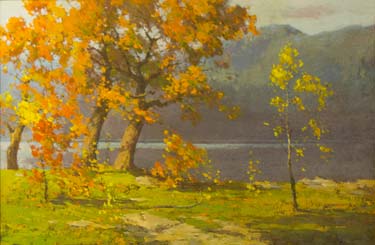 "Flame of October" by Zufar Bikbov
This live painting event will kick off our day-long annual fundraiser, which will culminate in two evening art auctions.
Artist registration for the plein air event starts at 9:00 am. The registration fee is $20, which includes coffee, tea and munchkins, plus a bag lunch.
Participating artists can submit one work for the silent auction at morning registration, and one work at 3:30pm for the live auction.
Artists can bring one work for each event.
Silent Auction runs from 10:00am – 4:30pm.
Live Auction begins at 5:00pm - Clive Lodge, auctioneer.
Artists will receive a 50% commission unless they specify their portion will be donated to the association as a part of the fundraiser.
The public reception will be held from 4:00 – 5:00 pm.
The event will be held at the Kent Art Association Gallery
21 South Main St (Rte 7) Kent CT 06757