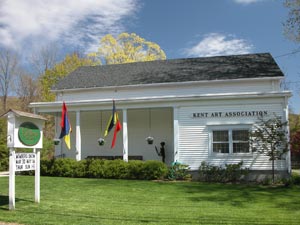 Welcome everyone!
We're happily working though our 96th anniversary season and hope you're able to take advantage of participating in our shows — or, just coming to enjoy them!
Click here for our
2019 exhibition calendar.
If you're not yet a member, please join us!
Click here for a membership form.

Thank you for your continuing patronage. We hope to see you soon.
---
At the Gallery —

Coming Soon —
Connecticut Make Music Day
Friday, June 21st from 4-7 pm
Join us for an exciting Make Music Day on Friday June 21st beginning at 1:30 pm at the KAA Gallery. And while you're there take a few minutes to step inside the air conditioned gallery for a preview of the Juried Presidents Show that opens on Saturday (June 22). 
    The bands will play on the front porch of the KAA Gallery with seating on the front lawn (concerts will be held inside in case of bad weather).
The President's Show
June 22nd — August 4th

One of our most prestigious shows of the season, the President's Show is coming up soon. This is a juried show drawing entrants from all over the area and to be included is always an honor. 
 
The Opening Reception for Juried Presidents Show will be on Saturday, June 22 from 2-7 pm, featuring pianist Roger Youngon Keyboards, an introduction by Northwest CT Art's Council Executive Director, Rufus deRham and the Presentation of Awards
 
Refreshments will be served. The Reception is Free and open to the public.
Next —
Small Work Porch Show
August 2nd and 3rd
Click here for the prospectus.
---
Gallery hours:
All gallery shows open hours are 1:00 – 5:00pm. The gallery is open during show dates, Thurs. – Sun. except otherwise noted.
(Student Show is open for three weekend days. NEWS Exhibition and the Volunteer Show are both open daily.)
Opening receptions are 2:00 – 4:00pm • Awards are given out at 3PM at the receptions.