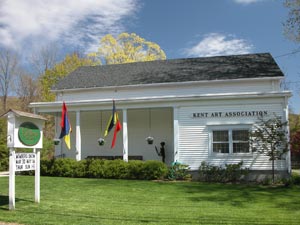 It's the Perfect Time to Come to Kent!
The Kent Art Association is up and running for our 99th season and the exhibits are better than ever. Join us in our recently refurbished galleries as we present wonderful work in all media in our extensive range of shows.
Whatever your preferences, we're working hard to make the association a valuable resource for you as an artist or as a collector.
Do join us whenever you can, and get in touch if you have ideas of ways we might make KAA better for you!
Now at the Gallery — The President's Show!

Another great show at the gallery! Do make time to come visit, enjoy the show and the lovely town of Kent!
The award-winners are shown in the graphic at left:
Best In Show: Anna Petranich for her pastel "Lady in Waiting"
1st Place: Carl Chaiet for his painting wall sculpture "About Vase 3"
2nd Place: William Noonan for his oil painting "Commercial Street, P-Town"
Honorable Mention: Diana Voyajulo for her oil portrait "Blondie"
The Joan Zipoli Memorial Award for Best Pastel: Karen Bahrenburg for her painting "Sky High"
Special thanks to the following volunteers who made the President's Show possible:
Sue Lopardo, President, Trudy Walters, Joan Macfarlane, and Connie Horton from the Selections Committee
Michael Worobec, Terry Tougas, Jackie and Gino Zenobia, and Werner Kappes who have been on the Hanging Committe and to our judges, Susan Grisell, and Erin Nazzaro.
For more information on the show, check out the listing on our current show page.

---

Coming Up Next
Invitational Global Art Show

July 3 – July 24

Join us for our opening reception on Friday, July 8th from 6-8 pm. 
Guest Artists include:
Paola Bari • Paige Boller • Susan Grisell • Kathy L'Hommedieu • Werner Kappes • Katushka Millones • Juan Moreno • Erin Nazzaro • Heather Scofield • Jen Tillou

Get the 2022 Calendar by clicking this link!


---
If you're not yet a member, please join us! You can now sign up and pay for membership online.
Visit our "Join KAA" page for a link to the membership details and payment form.

Thank you for your continuing patronage. We hope to see you soon.
---

We are open Thurs, Fri, and Sat, and Sunday throughout the duration of this show. Our artists are also continuing to create wonderful work which may not be in the show. Please refer to our Members' Website page for links to their individual sites.