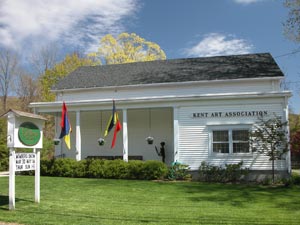 Welcome to 2021!
Hello everyone!
     We're busy planning for a new season of shows and exhibits. Of course, we're looking carefully at the current status of the Corona Virus in our area and working to make any projects we do safe for our members and visitors.
    As we move forward, CDC rules will apply for all shows. - masks, social distance and only 10 people at a time allowed in the gallery.

Currently at the Gallery — Members' Show I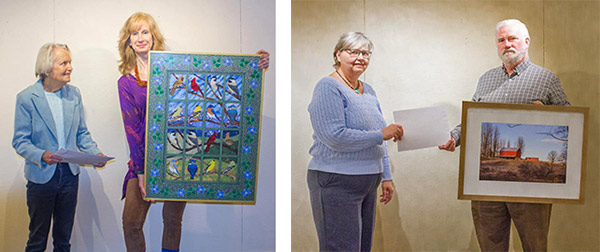 Above: (left) Best in Show winner Amanda Lynne with her mixed media piece "And Your Bird Can Sing". Amanda is pictured with show chairman Mary Anne Carley. (right) Honorable Mention winner, Terrence Tougas for his photograph "Red Barn" shown with KAA president, Sue Lopardo. Photos by Karen Chase

Visit our Current Shows page for more info — click here!

---

Gino Zenobia, board member and chair of the outdoor mural project, would like to remind our members that he is welcoming more artists to join in on this exciting outdoor porch mural project!
Please contact Gino at gino.z@sbcglobal.net for more information.

---

Get the 2021 Calendar by clicking this link!
---
If you're not yet a member, please join us!
Click here for a membership form.
Thank you for your continuing patronage. We hope to see you soon.
---

We are open Thurs, Fri, and Sat, and Sunday throughout the duration of this show. Our artists are also continuing to create wonderful work which may not be in the show. Please refer to our Members' Website page for links to their individual sites.