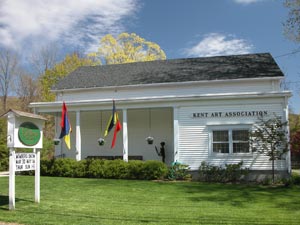 The Holiday Season is upon us!
It's been a terrific year at the Kent Art Association. We hope you've been able to join us for the wonderful exhibits put on this year. We're now looking forward to out last show of the season (and our holiday raffle!)
We're working hard to make the association a valuable resource for you as an artist or as a collector, so, whatever your preferences make time to drop by for the upcoming shows.
...and get in touch if you have ideas of ways we might make KAA better for you!
---
Coming Up — December Invitational Show!

December 9th til December 24th

We are getting into the holiday swing with the December Invitational Show! This show will feature works from heresa Bates, Shirley Parker Benjamin, Stacy Bogonoff, John Breiner, Kathy Flynn, Manny Ofori, Michael Patterson, Daniel Papaleo, Wanqing Sheng, and Hector Tassino. These guest artists will be exhibiting at the Kent Art Association from December 9th through the month of December, Thursday-Sunday 1-5. Be sure to join us for a holiday Opening Reception, Friday, December 9th from 6-8.

Hope you had an opportunity to see the Fall Juried Show! Over 30 artists and 97 works were selected for this annual show. Congratulations to Lorraine Ryan who won Best In Show for all three of her watercolor paintings. 2nd and 3rd place went to Merrill French for body of work in oils and Muriel Stockdale for her portraits in oils. Honorable Mention went to Erin Cordle for her acrylic painting "Remnants", Mary Lou Carlson for her acrylic painting "Nasturtiums", Richard Koleszar for his oil painting "Big Wheel", and Nancy Rohr for her collage "Raspberry Barn".

---
If you're not yet a member, please join us! You can now sign up and pay for membership online.
Visit our
"Join KAA"
page for a link to the membership details and payment form.
Thank you for your continuing patronage. We hope to see you soon.
---

We are open Thurs, Fri, and Sat, and Sunday throughout the duration of this show. Our artists are also continuing to create wonderful work which may not be in the show. Please refer to our Members' Website page for links to their individual sites.