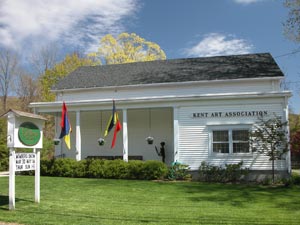 Welcome everyone!
We're now at the beginnning of our 95th anniversary season.
Our 2018 exhibition calendar is available at left.
If you're not yet a member, please join us!
Click here for a membership form.

Thank you for your continuing patronage. We hope to see you soon.
---
Members' Show II, Aug. 4th - 26th and our Clothesline Show, August 3rd - 4th

(highlighting the Kent Sidewalk Festival.)

Members' II Prospectus
Clothesline Show Prospectus


KAA's "Discovering Our Founders" Lecture Series

Continuing the Kent Art Associations 95th Anniversary Celebration (1923-2018) we are presenting the lecture series, "Discovering Our Founders". Our first lectures have included an overview of our founders presented by Roger Gonzales, a talk on Rex Brasher, America's Audubon, and a review of the contribution of Robert Nisbet, the first president of the Kent Art Association, presented by Amy Kurtz Lansing.

Our upcoming lectures include —
Willard Dryden Paddock, Sculptor, delivered by Deborah Chabrian & Ed Martinez
Saturday, August 11, 3 PM

Frederick Judd Waugh, Maritime Painter & James Floyd Clymer, Early Modernist, delivered by Paul Gould
Saturday August 25, 3 PM

Spencer Baird Nichols, Painter of Portraits & Landscapes, delivered by his granddaughter, Barbara J. Sussman
Saturday, September 15, 3 PM

George Laurence Nelson, Painter of Portraits & Flowers, delivered by Marge Smith
Saturday, November 17, 3 pm

Scheduled Talks at the KAA Gallery, 21 So. Main St., Kent, CT; 860-927-3989 or www.kentart.org <http://www.kentart.org>

For more information about this series, Click Here


Coming Next:
Fall Juried Show — September 8th - October 8th (open Columbus Day)
Open to all artists — Representational and nonrepresentational oils, watercolors, pastels, graphics, acrylics, small sculpture and collage.
---
Gallery hours:
March 25th to December 1st— Thurs. - Sunday, 1 to 5pm during show dates
Oct. 14th - 27th (NEWS Show) — open daily from 1 to 5 pm.
Nov. 23rd and 24th (Kent Champagne Stroll) — Open late till 8pm