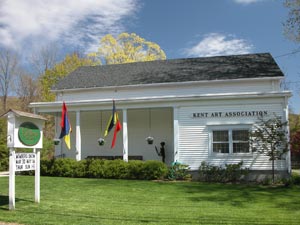 It's the Perfect Time to Come to Kent!
The Kent Art Association is up and running for our 99th season and the exhibits are better than ever. Join us in our recently refurbished galleries as we present wonderful work in all media in our extensive range of shows.
Whatever your preferences, we're working hard to make the association a valuable resource for you as an artist or as a collector.
Do join us whenever you can, and get in touch if you have ideas of ways we might make KAA better for you!
Now at the Gallery — The 2022 Photography/Black and White Show!

What a great show! You'll have to come visit
The Best in Show award was given to Karen Chase for her photo, "Beaman Pond" (at left); 2nd Place was given to Eric Hammer for his photo "Icelandic Pipe Dream"; 3rd Place winner was Ann Fiske for her photo "Little Blue Goof"; and Honorable Mention went to Hudson Foraker for his photograph "First Trampoline Test".
Special thanks to our judges and hanging crew, Dillon Fitton, Jamie Kay, and Pam White who worked over and beyond the call of duty to bring us a very nice show!  A very special thank you to wildlife photographer John Clery and multi-talented artist Pam White, who brought us special exhibitions of their works! 
For more information on the show, check out the listing on our current show page.

---

Coming Up Next
KAA Outdoor Festival and
Artist's Tag Sale Weekend
May 27th to 29th! 

Get the 2022 Calendar by clicking this link!


---
If you're not yet a member, please join us! You can now sign up and pay for membership online.
Visit our "Join KAA" page for a link to the membership details and payment form.

Thank you for your continuing patronage. We hope to see you soon.
---

We are open Thurs, Fri, and Sat, and Sunday throughout the duration of this show. Our artists are also continuing to create wonderful work which may not be in the show. Please refer to our Members' Website page for links to their individual sites.