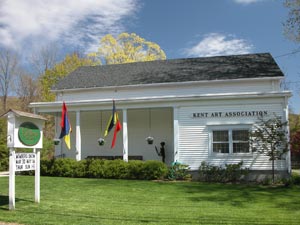 Welcome everyone!
We're now at the beginnning of our 95th anniversary season.
Our 2018 exhibition calendar is available at left.
If you're not yet a member, please join us!
Click here for a membership form.

Thank you for your continuing patronage. We hope to see you soon.
---
Now at the Gallery — Fall Juried Show
September 8th - October 8th

Discovering Our Founders Lecture Series
Up Next — Spencer Baird Nichols
Saturday, September 15th - at 3pm
Join us on Saturday, September 15 at 3 pm at the Kent Art Association Gallery located at 21 So. Main St in Kent for a talk by Barbara Sussman, a respected artist and Gallery owner from Hoosick Falls, NY. 

Barbara will return to Kent to talk about her Grandfather, Spencer Baird Nichols (1875-1950).

Nichols moved to Kent in 1922 after the death of his oldest son and became one of the nine founding members of the Kent Art Association in 1923.
 
His portrait of House Speaker Andrew Stephenson hangs in the House of Representatives in Washington, DC and he has paintings in the Smithsonian Museum of American Art. He was the Director of Art at Marot Junior College in Thompson, CT from 1936 until 1941.

He did murals in the Kent, Litchfield, and New Milford Schools for the WPA Arts project and was a member of the Washington Water Color Club, Society of Washington Artists, the Salmagundi Club, the National Arts Club, and an elected Associate of the National Academy of Design. 

It should be a fascinating talk and we hope you'll be able to take advantage of the opportunity to learn more about the founding of KAA!

THE LAST IN OUR SERIES WILL BE —

George Laurence Nelson, Painter of Portraits & Flowers, delivered by Marge Smith
Saturday, November 17, 3 pm

Scheduled Talks at the KAA Gallery, 21 So. Main St., Kent, CT; 860-927-3989 or www.kentart.org <http://www.kentart.org>

For more information about this series, Click Here


Coming Next:
North East Watercolor Society Exhibition
October 14th - 27th — (daily 1 - 5pm)
---
Gallery hours:
March 25th to December 1st— Thurs. - Sunday, 1 to 5pm during show dates
Oct. 14th - 27th (NEWS Show) — open daily from 1 to 5 pm.
Nov. 23rd and 24th (Kent Champagne Stroll) — Open late till 8pm