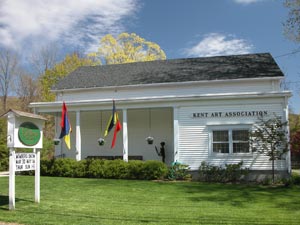 Holidays are special at the Gallery!
New programs, new events! — We're working hard to make the season fun and art-filled for our members and our art loving visitors. Stop by the gallery and see what's new!
Now at the Gallery — The Off the Wall Pop-Up Art Show

Now through December 24th!
Come on over to the KAA gallery and see this exciting show featuring the works of Gino Zenobia, Werner Kappes, Frank Kara, Edward Robinson, and Carl Chaiet.
For the next few weeks, we will have some beautiful natural and locally hand-made wreaths for sale! Come on by while the selection is great!

---

Coming Soon
KAA is starting up a new program — "Second-Saturday Coffee and Art Talk", every second Saturday of each month! Our first talk will be Saturday, December 11th from 10-12 at the KAA. Host for the December talk will be Gino Zenobia.
Please contact Gino at gino.z@sbcglobal.net for more information.

---
You Can Help!
We are looking for a few volunteers to help with our "spruce-up" party through the month of January – we will be taking up the rugs, painting the ceilings, patching the walls and getting everything ready for our 2022 shows. If you can lend a hand, contact the office at kent.art.assoc@snet.net for details!

---
New Website Feature!
Past email communications are now being archived and made available on the website. Want to check up on the workshop mentioned or one of the shows we covered? Click on the link here, or select "Email Blasts" from the menu at left.

---

Get the 2022 Calendar by clicking this link!
---
If you're not yet a member, please join us! You can now sign up and pay for membership online.
Visit our "Join KAA" page for a link to the membership details and payment form.


Thank you for your continuing patronage. We hope to see you soon.
---

We are open Thurs, Fri, and Sat, and Sunday throughout the duration of this show. Our artists are also continuing to create wonderful work which may not be in the show. Please refer to our Members' Website page for links to their individual sites.