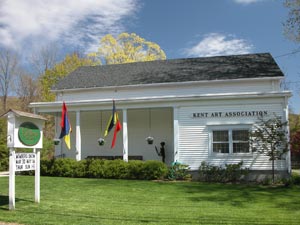 Welcome to Autumn in Kent!
We hope you've been enjoying the first days of Autumn. There's really no where nicer in this season than Kent! And, you'll want to stop in the gallery while you're visiting to see the current North East Watercolor Society Show! There are over 90 exceptional examples of the art of watercolor on display.
We're working hard to make the association a valuable resource for you as an artist or as a collector, so, whatever your preferences make time to drop by for the upcoming shows.
...and get in touch if you have ideas of ways we might make KAA better for you!
---
Now at the Gallery — North East Watercolor Society Show

October 9th to 30th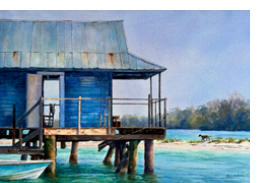 Each year we welcome our friends from the North East Watercolor Society to present their yearly show at the KAA Gallery. If you've seen the show in past, you know the high quality of the work they present! Join us again this year!
Open 7 days a week. 1-5 pm Sunday to Thursday, 7/24 - 7/28 from 1-3 pm. (at left: ""Florida Stilt House" by Anne Austin"

---

Plein Air Event This September!
Brushes with Nature —
Paintout & Show in Kent, CT
Hosted by Kent Art Association in historic town center
This 2022 Plein Air Painting Program is a free event and will be presented by the New England Watercolor Society (NEWS)

Join NEWS members, and meetup with other artists to paint at various outdoor locations in
New England.
No instruction, all levels welcome.
Paintout — Sat and Sun, Sept 10 & 11, 10-3
Participant's Show — Aug 25-Sept 11 Kent Art Association, 21 South Main St Free at KAA with restrooms, snacks; public restrooms in town center
Many restaurants nearby
RSVP for Paintout Only — by Thursday, September 1st or For Participant's Show — by Monday, August 1st
Contact — Joan Macfarlane — kentartassociation@gmail.com or 860-927-3989

---
If you're not yet a member, please join us! You can now sign up and pay for membership online.
Visit our
"Join KAA"
page for a link to the membership details and payment form.
Thank you for your continuing patronage. We hope to see you soon.
---

We are open Thurs, Fri, and Sat, and Sunday throughout the duration of this show. Our artists are also continuing to create wonderful work which may not be in the show. Please refer to our Members' Website page for links to their individual sites.