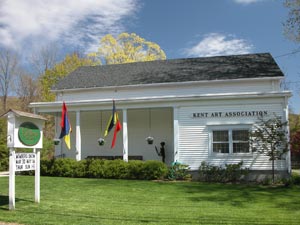 KAA closed Saturday, Dec. 9th due to weather
Welcome everyone!
The Kent Art Association Gallery is now winding down our 94th anniversary season.
Our 2017 exhibition calendar is available at left. Among our events this year was a special tribute show honoring one of our most admired past presidents, Barbara Goodspeed. She was a talented and award winning painter, and a mainstay of the association.

Thank you for your continuing patronage. We hope to see you soon.
---
Now — Please Join Us!
Elected Artist Show
December 2nd — December 16th, Thurs-Sun, 1-5pm
Receiving — Sunday, November 26th from 1-5pm & Monday, November 27th from 1-3pm
Awards Reception — Saturday, December 2nd from 2-4pm

Next Season!
Our Elected Artists' and Solo Shows are the last of our 2017 season. We hope you enjoy the holidays and your winter break. We'll be hard at work planning for another year of exceptional shows. Get in touch with your ideas and thoughts for the coming season. We look forward to input from our members and guests!

---
Gallery hours:
March 25th to Oct. 9th — Thurs. - Sunday, 1 to 5pm, plus Monday holidays
Oct. 15th - 28th (NEWS Show) — open daily from 12 to 4 pm.
Nov. 11th - Dec. 16th — Thurs. - Sunday, 1 to 5pm
Nov. 24th and 25th (Champagne Stroll) — Open late till 8pm